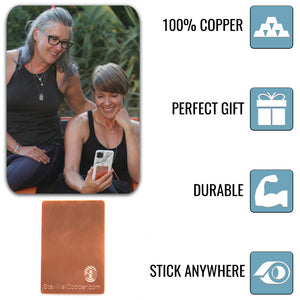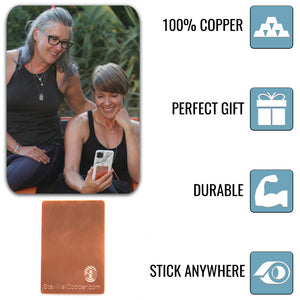 GermStopper Large Copper Patch
Protect Yourself with the StayWell® Copper Sanitizer GermStopper Medium Patch. All Natural, chemical free kills 99.97% of germs and bacteria on the things you touch the most.
1 Large Patch (2" x 3")
Attaches to phones, ipads, tablets, badges, and other handheld devices. It reduces the spread and kills 99.97% germs on your hands and fingers as you touch, hold, and use your devices.
LIGHT, THIN AND EASY TO ATTACH - Specially engineered 3M adhesive safely adheres
Use in addition to handwashing.
Lasts a lifetime - no refills, batteries, mess, or waste!
The Halo effect kills 70% of germs within 16".
When a germ comes in contact with StayWell® Copper, the copper causes the outer membrane of the germ to rupture. Once ruptured, the germ's cell contents interact with the copper and their function is destroyed!
 
 With use, natural copper oxidizes and will naturally tarnish and change colors. This patina process DOES NOT inhibit or reduce its antimicrobial properties to kill germs. It is important to keep your StayWell® Copper products free from oils and lotions. Wash with soap and water to keep your copper surface clean so it can electrocute and kill germs. 
PROUDLY MADE IN THE USA Of 100% Pure Mined and Refined American Copper.